"Fight for Rock for Life 3" is the one hundredth and nine chapter in Ahiru no Sora.
Chapter Summary
The intense Inter-High Kanagawa Prefecture finals match between Yokohama Taiei High and Shinmaruko High is underway. The second quarter concludes, and the score is 30 to 33. Shinmaruko High leads the match by 3 points. During half-time, Sakamaki discusses the necessary countermeasures with his squad. Sakamaki highlights to stop Shinmaruko High momentum. Their team has to guard Tokiwa seriously, especially beneath the goal post area. Shinmaruko High has the height advantage against them and urges his squad to stop their adversary with a box-out defense. Sakamaki subs in Miyamoto to defend inside the paint area, and aside from their center Shinichi Chiba, pay close attention to halt their outside primary scorer, number 9 Kento Sawa. Sakamaki then encourages his squad to give their best effort in closing the deficit gap.
The third quarter begins, Tokiwa uses his speed and agility to his advantage. He effortlessly passes by Yokohama Taiei High's defense. Yakuma tries to stop Tokiwa from scoring, he is unable to guard him, and Tokiwa scores the layup shot. Shinmaruko High increases their lead to 5 points. Chiba praises Tokiwa for his scoring efforts. Tokiwa thanks his captain and informs him that he thought he would get a foul call to his advantage on scoring. Upon watching, Nao praises Tokiwa's skills and comments, wow, an ace guard. Takahashi agrees and believes that Shinmaruko High has made this far in the tournament due to Tokiwa's exceptional basketball skills. Kojima approves his friend's opinion and replies not to forget their captain Shinichi Chiba. Due to Shinmaruko High's previous two losses, this is undoubtedly their last chance to qualify for the Inter-High Tournament. Yokohama Taiei High is unable to score, and their number 7 member causes a turnover. Choji grabs the ball. Tokiwa rushes towards the opposing team's goal post and requests Choji to pass the ball.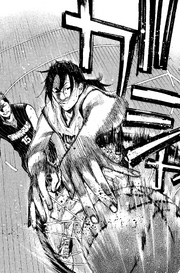 Moriyama, Yokohama Taiei High's captain, manages to keep pace with Tokiwa and tries to stop him. Tokiwa proficiently escapes his adversary's defense. Yakuma tries to stop him. Tokiwa sees his captain from behind and passes the ball to him. Chiba on receiving dunks. Both celebrate and Shinmaruko High expand their lead further to 7 points. On witnessing the dunk, everyone in the crowd goes wild. Sora praises that Chiba-san, due to his tall, muscular physique, can indeed run fast. Nao agrees that for a guy with a mediocre appearance Chiba has impressive skills. Takahashi disagrees and gives his opinion that looks don't have anything to do with basketball. Sora then critiques his teammate Kaname that he plays a similar center position due to his poor stamina. He is like the bizarro version of Shinichi Chiba. Sakamaki requests the referee for a member change, and Shiraishi joins the match. On seeing the substitution, Nao tells Sora that she wanted Chiaki to see this match, especially Yokohama Taiei High's ace Shiraishi. Nao further gives her opinion similar to Shiraishi. She would like Chiaki-senpai to adapt to the role of a point forward.
Shiraishi, due to his impressive athletic physique, forces his way inside the goal post. A frustrated Chiba tries to stop him. Shiraishi passes the ball to Yakuma, who then effortlessly dunks. The supporters of Yokohama Taiei High celebrate, and one of their cohorts' comments that their team has repaid the dunk. Yakuma then teases Chiba that he let him score easily. Chiba becomes angry and curses Yakuma for the snide remarks. Sora questions Nao's decision to change their senior Chiaki's position. Takahashi agrees with her opinion and explains to Sora that a point forward member does the job of both point guard and forward. In other words, the point guard plays closer to the basket. Add to that the forward's scoring abilities. That particular team will have an undeniable allrounder member. Shiraishi efficiently scores the mid-range shot and closes the deficit gap to three points. The onlookers in the crowd comment that Shiraishi has undoubtedly changed the flow of the match in Yokohama Taiei High's favor. A reassured Sakamaki calmly stares at his pupil Shiraishi and praises that his skills are already at the national level, although a sophomore. In his lengthy and illustrious career as a coach, he never met anyone stoic as Shiraishi. Sakamaki then recalls the moment when he met Shiraishi for the first time. At that time, Sakamaki was giving his basketball clinic to a group of sixth graders. Before beginning the practice session, Sakamaki's assistant requested Shiraishi and his classmates to introduce themselves and declare their aspirations or goals.
Yamamoto is the first to participate in the discussion. He informs Sakamaki of his aim to improve his ball-handling skills. His other classmate shares his opinion to become an athlete who scores. Another pupil expresses his intention to grow taller. Sakamaki replies that to grow taller, one needs to consume healthy nourishments. Another peer shares his hilarious intention to marry an idol. Sakamaki jokingly replies, what a foolish person and wishes him the best of luck. Yamada is the next one, and he shares his opinion about joining a famous school and his intention to win the Inter-High Tournament. Sakamaki smiles at his goal and gives his view, whether a small or renowned school. As long as one has a dream, it is acceptable. With a dream or goal, you can move forward and rise even higher. Sakamaki's advisor informs him there is one pupil left who didn't share his opinion. Sakamaki requests him to share his aspiration. Shiraishi shares his intention to join the NBA.
Meanwhile, at the Inter-High Kanagawa Prefecture finals, Shiraishi scores another mid-range shot. That is Shiraishi's three in a row successful scoring attempt, and for the first time, Yokohama Taiei High grabs the lead. Takahashi praises Shiraishi's decision-making and comments a jump shot from a full drive is extremely difficult. Takahashi is confident that Yokohama Taiei High has mastered attaining points from the middle or free throw line. The terrifying thing about dealing with a point forward is the opposing team has to be careful about the passes on the inside. The most crucial or fundamental skill set for a point forward is perfect decision-making. Shiraishi again forces his way inside the goal post. Kento tries to block him, and Shiraishi passes the ball to his teammate Tanaka, who from the three-point line efficiently scores. The tables have turned in Yokohama Taiei High's favor. An excited Fuwa passionately stares at his senior Shiraishi and eagerly awaits to join the match. On witnessing Yokohama Taiei High's exceptional offence, Kojima praises that their team has amazingly talented athletes, and it's no exaggeration as soon as Shiraishi steps onto the court, all the other members become efficient scorers. Whichever player of there is unguarded, that individual becomes an instant cornerstone of their offence.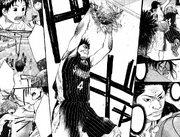 Shiraishi continues to lead his team's offence, and this time, in particular, he takes over the entire Shinmaruko High team by himself, scores and receives a foul call in his favor. On watching, Nao is amazed that Shiraishi's form was uneven, and how was he able to score? Takahashi agrees and comments that Shiraishi has outstanding basketball skills, and his aggressive way of scoring makes him a terrifying athlete. It might look simple or easy to have a forward adapt to the point guard's role. However, it is far from simple. The primary requirement for a point forward is unyielding determination and the power to lead the team to victory. An angry Tokiwa glares at his adversary. Shiraishi effortlessly makes the free throw. Sora is still uncertain on whether Chiaki should play the role of a point forward or not. On the other side of the court, Chiaki makes his quiet appearance at the arena. Two teenage fangirls cheerfully argue whom to support. According to them, both Shiraishi and Tokiwa are extremely handsome-looking individuals. On hearing, Chiaki becomes extremely annoyed and places his pack of flavored chips at the forehead of the young teenage girl. The people sitting beside them gaze at Chiaki's unusual behavior. Chiaki doesn't seem to be bothered by it. On witnessing Yokohama Taiei High's exceptional performance. Chiaki is confident the main person on his team attaining victory is none other than him. Chiaki decides to leave the tournament venue and urges himself to be thoroughly ready. He must practice.
Sakamaki recalls when he met Shiraishi the second time. In his final years of middle school, Shiraishi came to Yokohama Taiei High and expressed his intention to Sakamaki to enroll at the school. Sakamaki questioned his decision-making and bluntly informed him their school has extraneous training sessions, he is a strict instructor, and many newcomers on the team drop out. His team Yokohama Taiei High is not a regular middle school club. Shiraishi replies that he is grateful to hear that, and this is why he wants to join Yokohama Taiei High. Shiraishi assures Sakamaki he has no intention of dawdling around, and this school is the perfect place to help him achieve the fastest route to the top. Shiraishi scores the three-pointer, and in the blink of an eye, Yokohama Taiei High further expands their lead to seven points. A stunned and helpless Shinmaruko High glances over at the scoreboard.
Characters
Reference