"To the Distant Zenith" is the twenty fourth chapter in Ahiru no Sora.
Chapter Summary
After Kenji's enrollment in the basketball team, Sora and his teammates are working diligently hard for the upcoming Inter-High District Qualifiers. While practicing, Natsume gets a bit frustrated at Sora and informed him that he just broke a two-man practice defense and advised him that instead of shooting a three, he should have passed the ball to him because he was closer to the basket than him. Sora informs that he never misses a shot; that is why he didn't pass. Natsume is amazed at Kurumatani's shooting skills and murmurs that his shooting range gives him goosebumps. Natsume informs Momoharu that they have been practicing in the same pattern every day, and they should switch their practice routine. Hanazono asks Satsuki is there anything new they can add to their practice routine. Satsuki instructs them to start running within the court. Sora informs Momoharu that they need someone experienced, as a coach, to guide them in terms of their training.
Satsuki then shows Sora and his teammates the match schedule of the ongoing Kanto Tournament. Momoharu informs his teammates that they cannot enter this tournament; the second round will begin tomorrow. Sora then advises Hanazono that they can at least go and watch some matches. The next day at the Kawasaki train station, Sora is the first one to arrive; the others join in late. Kurumatani gets a bit annoyed and informs his teammates that they are late by two hours and must have missed seeing many of the matches. Momoharu shows Sora the tournament's schedule and informs that Shinmaruko High is also participating in the tourney, and their second-round opponent is Eiren High. Shinmaruko High is down by 9 points, and their coach calls for a timeout. Momoharu, upon seeing Shinmaruko High squad, informs his teammates that their coach wasn't present at their practice match. Yasuhara then informs that Eiren High is a second-seeded school, and they were one of the best 8 teams in the last year's Kanto Tournament.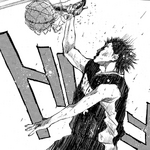 Kenji sees the determination in Shinmaruko High and informs Sora that the match will perhaps be over-turned. Chiba instructs Choji to guard number 10 of Eiren High properly and Kento to score whenever he gets a chance and tells him not to worry; if the shot misses, he will get the rebound. The match resumes, and Shinmaruko High tightens their defense, an All-Court Press!! Tokiwa manages to gain possession of the ball and passes it to Chiba, who then scores. One of the spectators informs that it is his first time seeing a dunk at a high school basketball tournament. The match ends, and Shinmaruko High defeats the second-seeded team Eiren High. Tokiwa sees Sora and his teammates and greets them. While leaving, the court informs Kurumatani that their region Kanagawa is the most competitive battleground in Japan. His teammates should start taking the sport of basketball seriously; otherwise, they will be left behind. Upon hearing that, Momoharu informs Chiaki that their district Kawasaki is also very competitive.
While heading back to Kawasaki, Sora tells himself that their current training regimen is not enough, and to become stronger, they need to practice seriously. Sora and his teammates at the train station realized that they took the wrong route, and they are in Enoshima. A confused Kuzuryu High informs their captain that they don't have any money to take another train. Momoharu then instructs his teammates instead of using transportation, they should jog towards Kawasaki.
Characters
Reference