"The Real Deal" is the thirty ninth chapter in Ahiru no Sora.
Chapter Summary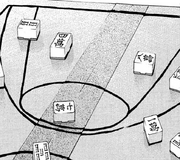 After witnessing Kuzuryu High's better than expected performance, Kitasumi High's coach, Koga, calls for a quick time out and instructs his players to wear their teams' official jerseys. Nao notices that Kitasumi High's offensive formation revolves around Tarou's offense, and they don't have an outside player, referring to a shooting guard like Sora. She then instructs her squad to use man-to-man defense. Man-to-man defense is a defensive formation in which a coach assigns each player on the line-up to a specific offensive player to follow and defend on the court. For example, a small forward will guard a small forward in this defense. The time out finishes, and Nao notices a determined Kitasumi High heading to the court by wearing their teams' official jerseys. While entering the court, Sora informs his teammates that in comparison to Kitasumi High, they don't have an official team jersey of their own yet. Upon hearing Chiaki, jokingly tells Sora if they win this match, they will get Kitasumi High's uniform. Nabe asks does that happens in basketball. Kenji then stares at Chiaki and tells Nabe no, they won't.
The match resumes, and it is Kitasumi High's possession. Tarou has the ball, and Sora is guarding him. While dribbling, Tarou tells Sora that his team might be underestimating him, and the teams' shortest player is guarding him. Upon hearing, Sora informs Tarou that he is also his teams' shortest player. Kabachi gets furious and tells Sora he is the fourth-smallest member on his team. Hasebe furiously shouts at Tarou and informs him that he is holding the ball for too long and only three seconds remaining in the shot clock. Kabachi then does a crossover move and then scores the point. However, the shot clock runs out, and the shot doesn't count.
Sora and Kenji are amazed by Tarou's speed and agility and praises his efficient cross-over move. Kenji then tries to score, the ball touches the rim, and Momoharu grabs the rebound. Natsume praises Hanazono, and then Kenji scores the point for Kuzuryu High. Momoharu confronts Konishi and tells him that he is all talk, no action. Kuzuryu High leads by 5 points. It's Katsumi High's possession, and Katori tells his teammates that Kuzuryu High has weak defense on the inside and instructs Tarou not to make any further mistakes. Sora, this time tries to guard Tarou carefully. However, due to the difference in their height, Kabachi quickly tries to score a three-pointer. The ball touches the rim, and it's a battle of rebound between Momoharu and Konishi. This time Konishi doesn't let Momoharu attain the offensive rebound. Tarou grabs the loose ball and scores. Momoharu, frustrated by his recent attempt. Konishi approaches him and tells Hanazono that he is the one who taught him how to become an efficient center. Upon seeing Tarou's better-than-expected performance and speedy style of play. Sora tells himself that Tarou is the real deal, and going forward, he and his teammates need to be serious and careful when guarding him.
Characters
Reference