We're Getting Mutants in the MCU - The Loop
Play Sound
"Small Rebellious Person" is the sixth chapter in Ahiru no Sora.
Chapter Summary
The Kuzuryu High basketball team is working diligently hard every day for the upcoming practice match. Momoharu focuses on refining his shooting skills, and Yasuhara, Nabe, and Chucky work together to improve their dribbling skills.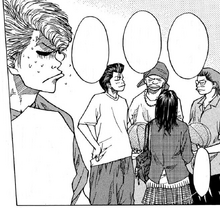 Madoka joins them and asks they need any help from her with their training. Yasuhara, Nabe, and Chucky request Yabuchi to help them in shooting and dribbling. Meanwhile, our protagonist Sora in his classroom, is in deep thoughts about his opponents Shinmaruko High. During that time, Chiaki being a sophomore, mistakenly enters Kurumatani's class. Some of Sora's classmates make fun of Hanazono's appearance, and the classroom teacher requests Chiaki to leave. Afterward, Sora meets up with Hanazono in the locker room and asks if he is willing to participate in the upcoming match. Chiaki tells him his soon-to-be girlfriend Tomo might show up at the Kawasaki Bride, so he won't be able to participate, and playing basketball is too much hassle for him.
Chiaki also informed that the match between Kuzuryu High and Shinmaruko High is unfair to cause the current members of Kuzu-High are in no shape to win it. Kurumatani tells him it doesn't matter to him, and no matter who the opponent is, he never runs away and gives his best effort. Hanazono gets a bit annoyed and hands Sora a drawn seating arrangement chart of his classroom. He tells Sora to provide him with the names of his colleagues who were making fun of his appearance earlier. Sora is amazed that Hanazono was able to draw the entire seating arrangement of his class accurately at one glance.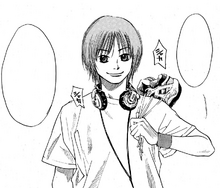 The next day Sora and Momoharu go on an undercover spying mission to Shinmaruko High. As soon as they enter, Hanazono gets into a small argument with one of the Maru High students due to his outlandish thug-like appearance. Meanwhile, Kurumatani, due to his small stature, sneaks in. He makes his way to the basketball court and spies on the players from a small outside window. Tokiwa sees him and mistaken Sora for being one of the freshmen who want to join their team. He then invites Kurumatani to join them for practice. While entering the court, Sora witnesses Shinichi's vicious dunk and is amazed that the delinquent team he thought Shinmaruko High would be is the opposite. They are a very well-organized team with members of tall heights.
Tokiwa informs Chiba that they have a lot of new freshmen this time joining their team. Shinichi goes to meet all of them and tells all the small height newcomers to go home. One of the freshmen questions Chiba's decision and asks why he cannot join the team. Shinichi elucidates that basketball is a sport that emphasizes height and power. People who aren't even 170 cm tall should not play high school basketball.
Sore hearing Chiba's ideology interrupts the ongoing practice of Shinmaruko High and intercepts Tokiwa's pass. Shinichi yells at Tokiwa to stop him. Tokiwa challenges Kurumatani to a 1-on-1 match. Sora, not being fazed by his adversary's tall height, goes for a layup, does a double-clutch move, and then scores the point. Everyone on the court is surprised by Kurumatani's skills. While leaving Sora issues a challenge to them, he is looking forward to playing against Shinmaruko High in the upcoming practice match. After Sora's departure, Tokiwa questions Chiba's decision to agree to do a practice match with a lesser-known team Kuzuryu High. He tells Chiba that their focus is to qualify for the upcoming Inter-High Tournament. Shinichi informs Tokiwa that he was in two minds about the practice match at first, but seeing Kurumatani's double-clutch has made him excited, and he looks forward to competing against them.
Characters
Reference