Kaname 'Mokichi' Shigeyoshi
茂吉 要


Personal statistics
Name
Kaname 'Mokichi' Shigeyoshi
茂吉 要
Gender
Male
Height
198 cm
Weight
73 kg
Blood type
 ?
Basketball statistics
Team
Kuzuryū High
Position
Center
Number
12
Speciality
Hook shot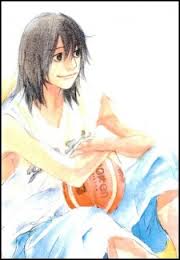 Kaname Shigeyoshi
 (茂吉要, Shigeyoshi Kaname), also known as Mokichi, is
Kuzuryū Highs
Center. Due to his low stamina, he mostly starts as a substitute but is gradually adapting into a starting Center role. He specializes in the hookshots and has quite advanced technique. Physicality isn't his strong suite but he is improving in that regard. Due to his height and reach, he is also a presence in defense and he is also quite smart, able to keep up with Chiaki's mind busters.
Section heading
Edit
Appearance:
He is a tall guy, 198 cm, always looking dull. sometimes wears a facemasks. long hair, with brown eyes. always seen wearing high school uniforms, jersey #12. and sometimes normal clothing.
Section heading
Edit
Write the second section of your page here.